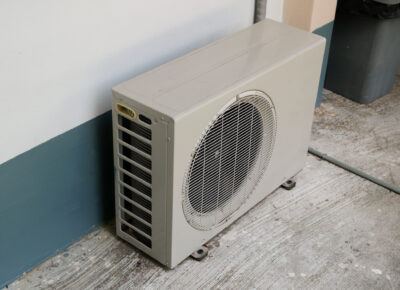 We at Sanders home Services specialize in ductless mini-splits systems, to provide convenient and efficient temperature control to every size and style of home. Not every home has the space or setup for duct work, and not everyone in a home is comfortable at the same temperatures. Neither of these issues is a problem for the heating and cooling experts at Sanders Home Services!
If you've never heard of mini split systems, they are comprised of an indoor evaporator and an outdoor condensing unit and have the capacity to cool or heat one room or more. Instead of paying to heat/cool the entire home, you have the flexibility to only condition those rooms that are occupied. This saves money on energy consumption, and offers room-by-room temperature control.
Best of all, there's no need to sacrifice precious closet space to ductwork, or give up the view from your favorite window for an air conditioning unit. Because the ductless mini-splits system is approximately seven inches thick, there's a lot of flexibility on location.
The experienced technicians from Sanders Home Services can install your indoor unit just about anywhere you like, whether it's on the wall or flush with a suspended ceiling. With the option of a wireless remote, you'll easily adjust temperature from the comfort of your favorite chair.
Mini split systems require only a three-inch hole in an outside wall for the conduit to connect the indoor and outdoor units. This not only creates less mess and better aesthetics, but you also eliminate the energy loss associated with duct work. The ducts in a conventional system can lose up to 25% of the energy produced. Because the energy is transported through insulated lines, ductless mini splits conserve 95% of the generated energy. This adds up to big savings in utility bills!
Ductless mini-split system have the added benefit of extremely quiet operation. The indoor air handler generates between 21 and 30 decibels, which is about the equivalent of a whisper. The outdoor unit is a bit louder, like a normal conversation at 60 decibels, but this is significantly less than traditional options, and since it can be located fifty feet from its indoor partner, you can tuck it away where you won't see or hear it.
For both heating and cooling, ductless mini split systems are astoundingly efficient. They provide quiet, consistent temperature control, and are known for rapidly increasing or decreasing a room's temperature just by the touch of a button.
If you're interested in learning more about the many benefits of a ductless mini-split system, call (856) 429-3086 and speak to a knowledgeable representative from Sanders Home Services. Our highly-trained team of contractors believes that good isn't quite good enough…we work to exceed your expectations every time.
We deliver the highest quality products and workmanship to deliver extraordinary results. When you call Sanders Home Services, the installation process is economical, quick, rewarding and precise!
Proudly Serving: Camden County, Burlington County and Gloucester County.