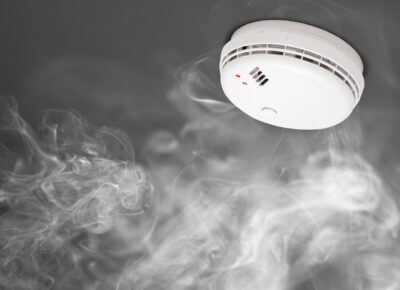 Fire & CO2 Detection is an important system that every household needs. In an emergency, every second counts. A fire can take over a room in as little
as five seconds. Carbon monoxide is colorless, tasteless, odorless and virtually undetectable without using detection technology.
To protect your home and family, call Sanders Home Services for the most sophisticated, reliable and proven detection devices. Our specialized technicians can help you determine how many smoke/CO detectors are needed, and where to install them for the best possible protection. We Proudly Serve: Camden County, Burlington County and Gloucester County.
When you think of smoke or CO detectors, you probably imagine the necessity of two separate components. You might remember the days of annoying low-battery chirps, or the shrieking alarm over burnt toast. New technology and improved sensors have significantly changed both how detectors work and keep us informed. Today's detectors are able to function as a warning system for both smoke and carbon monoxide, and if you install multiple units, they talk to one another.
You can also set up your iPhone, iPad or Android to check batteries or status and receive warnings. So even if you're away from home, the detector will alert you to an alarm.
Nearly two-thirds of the US home fire deaths occurred in homes without a working smoke alarm. These new and improved smoke/CO detectors virtually eliminate those false alarms that cause people to rip them off the ceiling or pull the batteries. If there's only a small amount of smoke or if carbon monoxide levels are just starting to elevate, you'll get a head's up. Early warning allows you the time to handle the toaster before the alarm sounds.
In an emergency, that early warning provides the precious seconds needed to ventilate or evacuate safely.
When it comes to the safety of your family, don't take chances. Call Sanders Home Services for further information. Our knowledgeable professionals will provide the equipment and services to ensure peace of mind.
Proudly Serving: Camden County, Burlington County and Gloucester County.