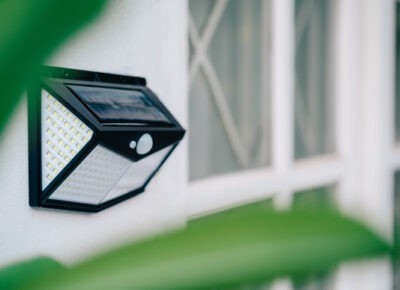 Outdoor lighting has many functions that add to the safety, beauty and value of your home or commercial location. Sanders Home Services menu of services includes innovative design and expert installation of a wide variety of exterior lighting fixtures, including:
Deck, patio or garden lighting –let your guests dine in style tonight!
Floodlights – emphasize dramatic architectural elements, or connect to a motion sensor for maximum security
Pathway lighting – discreet ground level lighting that lets you see your way while highlighting landscaping or building features
Recessed brick lighting – usually for decorative purposes only, these lights are safe for high-traffic areas as well
LED Lighting
The perfect way to modernize your home, trim costs, and reduce maintenance is to convert existing fixtures to LED lighting. The flexibility and long service life of LEDs makes them a great choice for nearly any application.
Combining energy savings and environmental responsibility, LED bulbs are a great choice, but they are not always compatible with conventional fixtures. Utilizing LED light bulbs in halogen and incandescent recessed lights may lead to a heat sensor inside the housing tripping your circuit breaker. LED lamps direct heat up towards the ceiling, and if the lamp doesn't feature well-designed "heat sinks," the additional heat trapped in the housing will degrade life expectancy.
For LED Lighting Fixture Conversion, contact the licensed professionals from Sanders Home Services. Handling a wide variety of projects since 1981, we have the experience, training, and expertise to complete safe, dependable and aesthetic retrofit.
Our team arrives right when expected and prepared for any challenge, ensuring quick turnaround and leaving no damage or mess behind. We're happy to discuss options and like nothing better than to improve the efficiency and enjoyability of your indoor/outdoor space.
Sanders Home Services provides prompt and exceptional service throughout Voorhees, Sicklerville, Sewell, Magnolia, Mt Laurel and Cherry Hill, NJ. Invest in Quality, Live in Comfort!
LED Lighting Benefits
Some of the many benefits of LED Lighting Fixture Conversion from Sanders Home Services include:
Lifespan of LED – LED bulbs and diodes provide reliable operational life of upwards of 50,000 hours. The average incandescent bulbs lasts around 1,000 hours, while a comparable fluorescent can be expected to last between eight to ten thousands hours. Plus LED's don't burn out suddenly, leaving you in the dark, but simply dim over a period of time.
Energy Efficiency – With an approximate energy efficiency of eighty to ninety percent, LED Lighting is the most cost-effective means of lighting. Traditional incandescent light bulbs achieve only twenty percent energy efficiency, losing eighty percent of the electricity as heat rather than light.
Environmentally Friendly – While conventional fluorescent bulbs contain materials such as mercury, which are dangerous to the environment, LED lights are free of toxic chemicals and are 100 % recyclable. Plus, because of extended operational life, LED bulbs reduce material and production of incandescent light bulbs.
Durability – LED lights are not affected by shock, vibrations and external impact, making them an ideal option for outdoor lighting.
No UV Emissions – LED illumination results in minimal infrared light and close to no UV emissions, making them the perfect choice in applications for heat-sensitive or UV sensitive materials/objects.
Design Versatility – Create a mood, meet specific requirements, take advantage of dimming possibilities, or direct light to a specific location.
Temperature Flexibility – Cold temperatures do not affect operation or present a challenge for LED lighting, ensuring reliability during extreme weather in outdoor settings or in refrigerated spaces.
Immediate Light – LED lights achieve full brightness immediately and can be switched on and off frequently without negatively impacting light emission or service life.