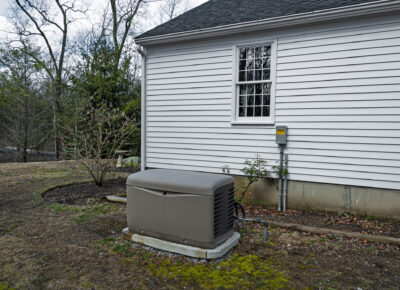 Outages can happen at anytime whether it be a powerline gets struck, a nasty storm, or some other occurrence, our state of the line whole home generators will power your home in any type of outage. We realize how much your home and family mean to you. Honeywell automatic standby generators are just one more way we offer assurance they remain protected.
Power outages bring potential dangers with them – freezing pipes, mold when the air conditioning goes out, loss of refrigeration, lights, and communication. Your Honeywell home backup generator will help guard against these dangers to keep you, your family and your assets secure.
How does an automatic backup generator work?
The generator system is pretty simple. The generator and transfer switch work together to monitor utility power 24/7. You don't need to be available to start the system in the event of an outage—it will start automatically.
The generator sits outside the home or business just like a central air conditioner while the transfer switch is located next to the main breaker box. Within seconds of sensing utility power is lost, the generator starts automatically to supply power.
When the return of utility power is sensed, it automatically shuts down…and returns to standby mode, ready for the next outage.
Sanders Home Services can help you select the power system that is within your budget and will meet your backup power needs. Let one of our professional technicians install one of our whole home generators at your home or business and you'll be ready for that next big storm.
Proudly Serving: Camden County, Burlington County and Gloucester County.