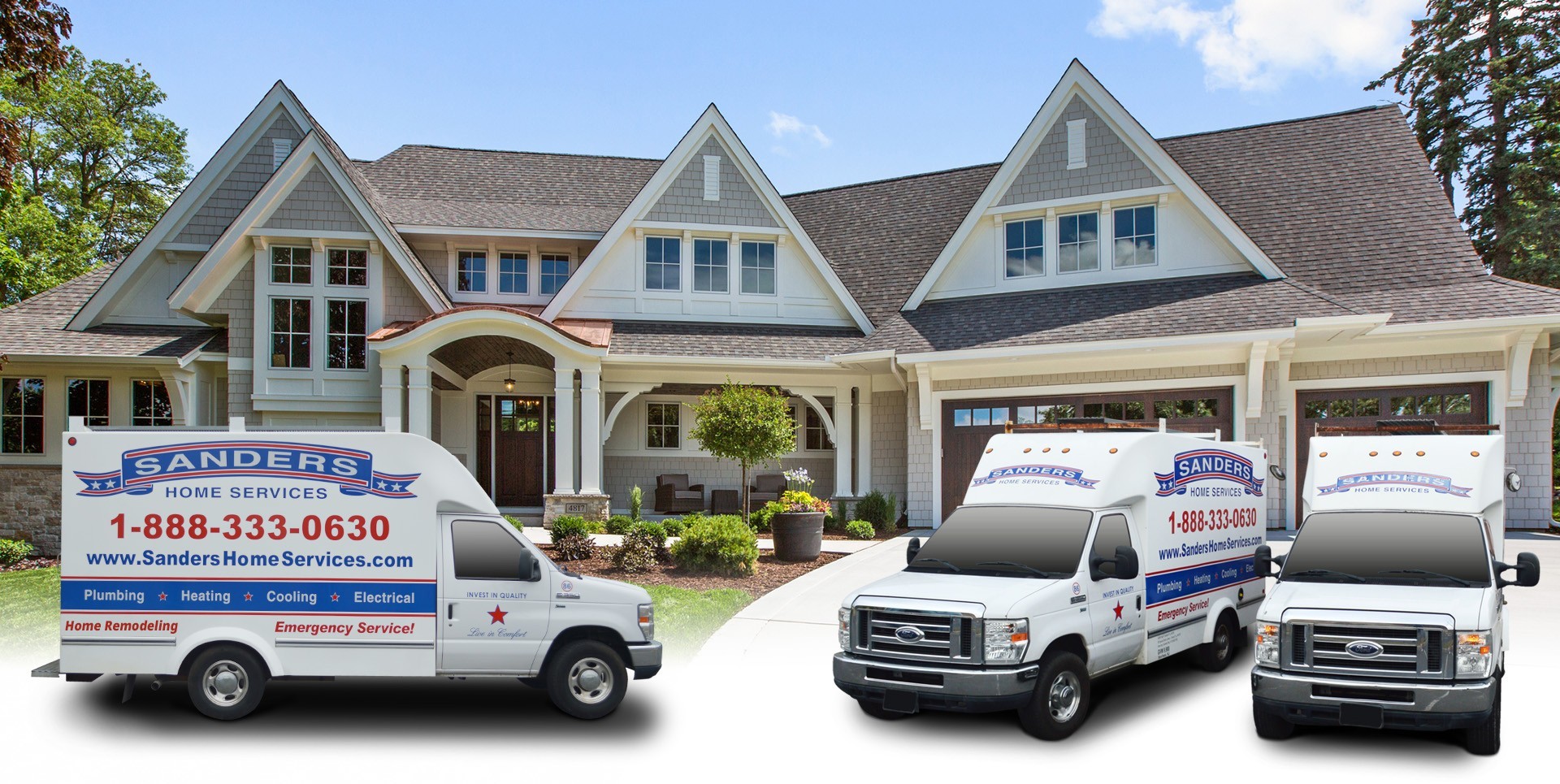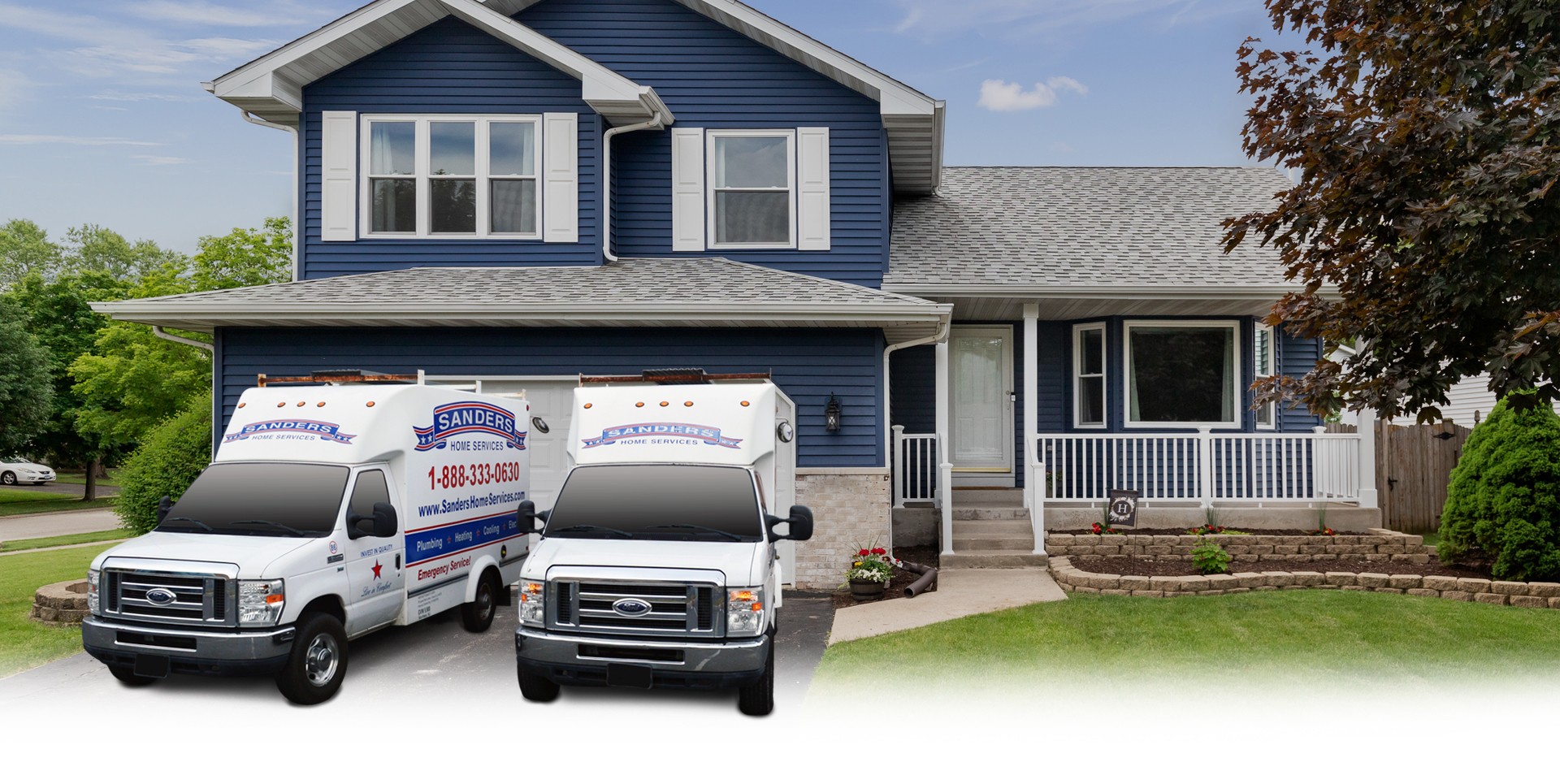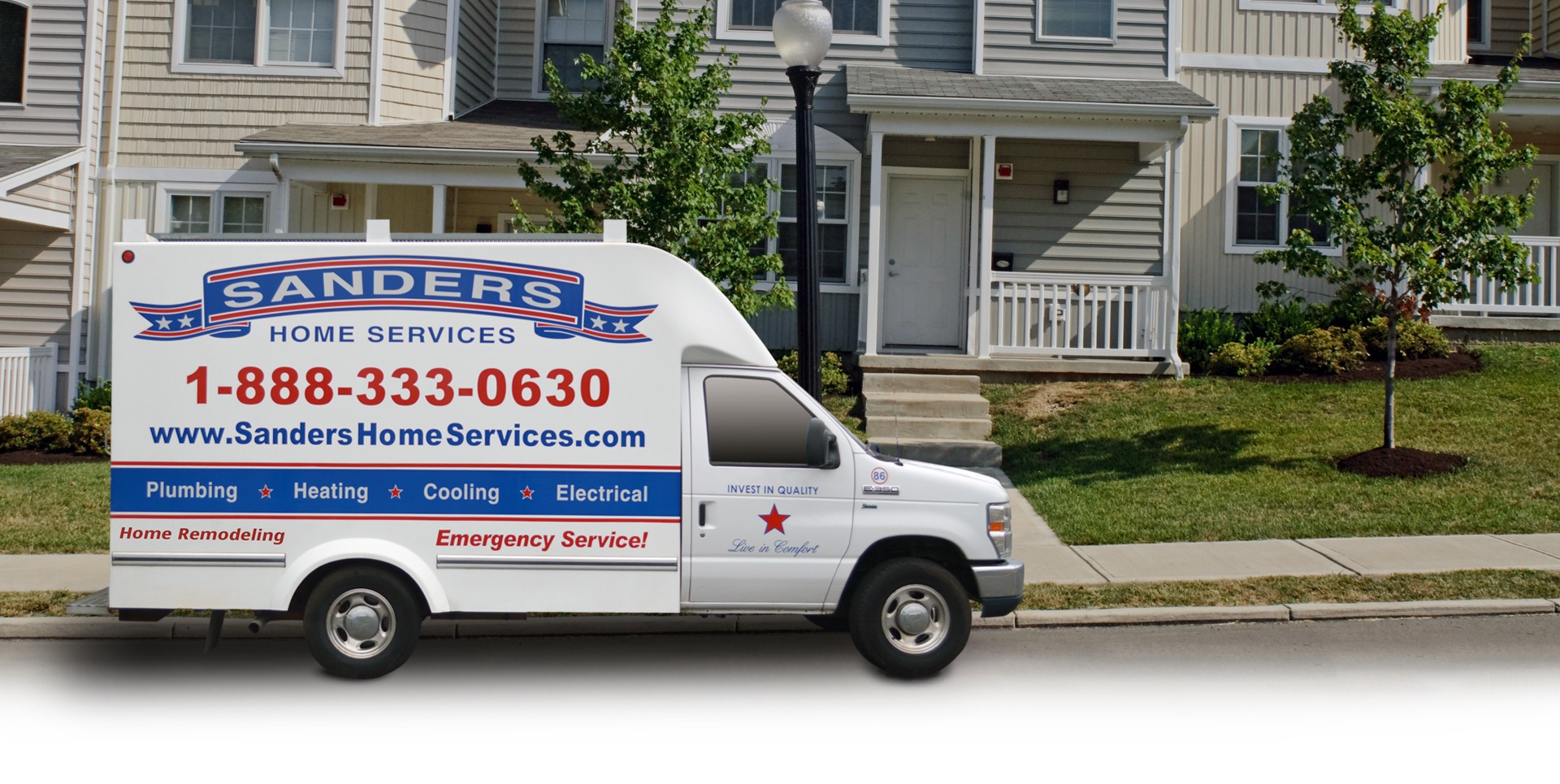 Slide
Same Day Emergency Service & Repairs
Slide
Same Day Emergency Service & Repairs
Slide
Same Day Emergency Service & Repairs
Sanders South Jersey Home Services
Sanders Home Services is your South Jersey home services solution for home comfort, energy savings and safety concerns, wherever you are in South Jersey. We have the experience, education and tools to provide lasting, cost-effective and innovative solutions. We offer a full spectrum of services, from heating and cooling installation and service, to comprehensive plumbing and electrical upgrades and repairs, we even offer renovations to your South Jersey kitchen, baths, & basements.
No job is too complex or too simple, and good is never good enough. We strive to exceed your expectations…while always treating you, your family and your home with the respect and attention you deserve.
We're open seven days a week, and we're always ready to respond to your home services needs. Reach out to us today and request your top notch home services in South Jersey!
Customer Reviews
Nana S. ★★★★★ My 30+year toilet began to whistle after each flush. After checking out big box stores, I called Sanders. They came next day, on time and removed old toilet and put in new toilet in short amount of time. I've used Sanders before many times. They never disappointed me.
Jeff F. ★★★★★ We would like to extend our sincere gratitude to Sanders Home services. We have just completed a major renovation on our home (new "open floor plan" kitchen - including removal of an existing bearing wall, living room, dining room, and hallway) and we are thrilled with both the process and the final result. Marcy was a huge help during the planning stages. Instead of "telling" us what we "should" do, she asked us what we wanted, offered productive guidance, and answered all of our many questions. It all came together better than we had hoped. When work began, Pete and all the gentlemen on the job were consistently courteous, professional, and efficient. The care that they showed with our home, and toward any questions or concerns we had along the way, was remarkable. We were constantly updated on the progress of the work, and regularly asked if we saw anything that we were not happy with. The team's response was always thorough. It was clear to us that they cared about the work that they did and about our satisfaction with it. Thanks to everyone from Sanders who was part of the effort.
Laraine M. ★★★★★ Plumbing and Electrical work done over the past couple of years. Great company! Excellent job every time!
Zakary S. ★★★★★ John has been to my house twice now and each time has been extremely professional and knowledgeable. He was able to resolve our issues and give us advice for avoiding future problems.
Weelic C. ★★★★★ So my 25-year old gas furnace decided to fail abruptly, and through word of mouth I called Sanders Home Services in the late evening (about 10 mins before they close at 7pm), they were able to find a time the next day for me thankfully. When they came by, they ran their diagnostics and then carefully explained the potential causes of the furnace failure, and provided different scenarios and quotes. Because they were able to explain all this very clearly, I told them that given their estimates, I may look into getting a new system. Rich Cusato from Sanders came by to explain different options that were best suited to my house. He likes HVAC solutions that provide the best value for his customer, it's really refreshing change from some of the other pushy companies out there! I got a Daikin inverter AC and high efficiency two-stage gas furnace, and also I got a water heater installed (it was working but nearly as old as the furnace). They handled the SJS utility rebates too so it worked out well. (But I went with a 0% APR through Daikin since I needed a faster install speed rather than waiting on SJS.) They got me electric space heaters the next day even before we went over loan details. After the loan went through, they then ordered the parts, which took a day or two. On install day, I was present for an hour or two before I left for work, so I observed them doing their thing. The main technician, Josue Camacho, did a great job with the install with 5 other techs. They also had a dedicated ductwork person cutting out custom ductwork just for this install. They also asked me for my input for things such as exhaust and intake placement (which I appreciated!) They were also very neat. After I got home, the furnace was working and I was impressed by how quiet it was !(it's almost unreal! For a two-stage furnace, it must have several blower motor settings.) Overall, top notch quality at a very good price. They came back the second day to work on the Aprilaire humidifier and to correct a stove vent that I installed myself earlier this year). Rich did tell me before the install that the thermostat would be proprietary, but Daikin has its own phone app for controlling the thermostat, I haven't tried the app, but the thermostat itself works very well, and has a modern look. With furnace installed, the next step in Rich's quest for value is attic insulation: He's going to guide me on attic insulation for free, so I can save on labor (yeah where do you find somebody awesome like that!?) (of course YMMV since not everyone loves going into their attic) I will probably post more pictures of the insulated attic soon. Will have more on how the AC runs in the spring too. I'll post an updated review then.
Elizabeth R. ★★★★★ JR was very professional & knowledgeable. He knew immediately what to do & took care of it. As always, Sanders is the best by providing expert techs. Thank you!
Kelsey M. ★★★★★ I realized my water heater was leaking and called Sanders Home Service for help! They had Randy and Greg out almost immediately to do an emergency replacement for my water heater. Randy and Greg were so professional and also efficient in their work. I appreciate their hard work and will recommend this company to my friends!
Sean S. ★★★★★ Fast Fair Friendly Completely Transparent Customer Service and Pricing. I strongly recommend Sanders! A+++ 5 Stars!
Lisa A. ★★★★★ This business is awesome. Brian the electrician installed a hot water heater, then replaced my electric panel and installed a hot tub. He knows his job. Incredible professionalism and knowledge. They always come on time anddo not have to wait long for an appointment.
Bob M. ★★★★★ Tony came out in the rain to do what was a simple plunging of the sewer trap near the street.Most importantly he explained patiently what the problem was and was very reassuring.
Margaret D. ★★★★★ Installed totally new bathroom which was expensive but the finished product is lovely. Workers were prompt, personable, skilled craftsmen working well together as a team. Kudos to Brendan, Charlie, Tony and Brian.
Stephanie W. ★★★★★ We moved into a new home in July and I've used sanders for quite a few things now. They've helped me fix a toilet, bathtub, washing machine. And a big project they're finishing up now is installing a secondary AC system in our attic. I actually inquired with another company about installing a system and sanders was almost 4000$ less, and was able to supplement air into a room that the other company said they wouldn't be able to do. Rich actually gave me 2 scenarios of what they could install and explained everything from the labor to the system itself. He worked out a whole plan of the work they would need to do and was very thorough about the cost. I never felt like he was trying to upsell me which is always appreciated on a big project like this. All the guys that have been working in our home this week have been very nice, great attitudes. They even vacuumed the areas they worked in at the end of every day. 10/10 recommend
Karen B. ★★★★★ Installed a new HVAC system in the middle of a heat wave! Excellent service, knowledgeable and caring professionals. They treated me like I was their only client. I couldn't ask for more! Highly recommended!
Altamash R. ★★★★★ Brian (electrician) was nothing short of outstanding from the very 1st consultation appointment and with any necessary amendments. He also educated us about the process and provided guidance for potential savings. He has clear expertise with all types of electrical work and it was a pleasure to work with him!! The support/office staff were also incredibly nice and a pleasure to work with.
Sanny S. ★★★★★ There was water pouring through the kitchen floor into the basement! Horrors! I needed help, and I needed it NOW! I called Sanders, and they sent someone within that very hour. THAT FAST!! The gentleman was efficient, thoughtful, and more than prepared for the job. He took pictures of the problem to show me where the leak was, and promptly repaired it. He explained exactly what was going on, how he would fix it, and how much the repair would cost. I can't be more pleased with the service of Sanders Home Services, and will DEFINITELY call the company again.
Michael W. ★★★★★ A GFI receptacle was installed for a previously installed sump pump. The technician was very professional and personable. I'm very satisfied with the work that was done.
Jen L. ★★★★★ Joe S. was great! Came out quickly and resolved our issue. Very knowledgeable. Answered all of the questions we had. If we ever need help again…We will for sure use Sanders and Joe. Thanks!
Donna H. ★★★★★ I recently had an HVAC installed by Sanders Home Services. I can't say enough positive things about how well the job went. John and Tony were prompt, professional, and very neat. I purchased the HVAC from salesman, Rich Cusato, and he followed up the day of the insall to see how the job was coming along. I appreciate that as a customer. I would highly recommend Sanders Home Services.
Victoria G. ★★★★★ Sanders remodeled my kitchen. I purchased Kraftmaid cabinets, countertop, backsplash, sink, faucet and hardware and I even picked out paint! The designer Rachel Hall was excellent she spent a lot of time with me and gave me so many great suggestions. She put together an amazing combination of choices! The work was done timely. I like the fact that they do mostly everything in-house using their employees. That is one of the reasons I went with them. I never had to wait for a sub-contractor that was on another job. I couldn't be happier with the result! Thank you Sanders Home Services. The best part is I had very little on my punch list once they were done....which is amazing!
Ann C. ★★★★★ I've been a customer of Sanders Home Services for plumbing and electric for about 20 years and have always been well pleased. Most recently, plumber Rich Sanders did an exhaustive investigation to detect and repair a leaking pipe in the wall. I was very impressed with his knowledge and ability to diagnose and repair this problem. He was assisted during part of the job by Greg, who I was also impressed with. The cost for the job wasn't cheap, but I think it was very fair.
Kristen B. ★★★★★ My experience with Sanders was amazing! They provided excellent communication and ensured that we understood their estimates before starting work. They arrived on time and completed all work as scheduled- then cleaned up the work area as well. All the technicians were incredibly polite! We will definitely be using their services for any future projects.
Rebecca C. ★★★★★ I will use no other business but Sanders for my home needs. They really take their time to explain what they are doing while doing their repairs. Very responsive and very reasonable. They have the best customer service!
Cher L. ★★★★★ Have used this company for years. Everyone I have dealt with is knowledgeable, polite, professional and respectful. This company stands behind their products and workmanship. I highly recommend them for any of the many services they provide if you want a job done right.
Theresa B ★★★★★ Rob came in the time frame given. Was very friendly and professional. He checked the thermostat and ac unit. Very quickly knew what had to be done. Went out for parts, came back and made the repairs. Had two other companies out. Wasted money…. One of those companies (very well known) told me the price would be $4,300.00for repairs….. Rob knew more and made repairs for$700.00 Will definitely stick with Sanders for all my needs. Will highly recommend them!!
Eric S. ★★★★★ We called Sanders for emergency service late on a Sunday when our electricity overloaded the panel and took down our power. The staff were all incredibly nice and our technician, Chris, was at our house in less than an hour. He was very knowledgeable and made sure to explain everything to me. Once the problem was identified, Sanders was able to schedule the main repair work for the following morning and had our power restored the same day. Thank you to everyone at Sanders for coming to the rescue here, I would recommend them to anyone who needs!
Patricia N. ★★★★★ Ryan came out to check out our AC and discovered a part was not performing as it should. He replaced the part without any issues. He was very nice, cleaned everything, and even explained what was being done. I'm not sure if you can request certain individuals respond to your calls but I'll be asking for him for my next maintenance call!!!!
Sheila A. ★★★★★ We recently had Sanders Home Services come out to our home to upgrade our electrical panel, install new recess lighting in our living room, and install a water-powered backup sump pump. The entire crew arrived on time, and were extremely professional and courteous. Chris B.(extremely knowledgeable electrician) did a beautiful job with our electrical panel and recess lighting. Chris B. is a master electrician and you can see that he is genuinely passionate about his work. Chris B. offered wonderful suggestions as to how our new lighting should be setup, and he explained everything to us in great detail as he completed his work.Seth the plumber was also amazing in the way he installed our water-powered backup sump pump and made sure everything worked properly. Ray, who is a super skilled carpenter, also visited our home. Ray did some patch work on our ceiling, and left everything looking perfect.We are very satisfied with the work we had done by Sanders Home Services and we will definitely be using them again for our future projects. Thank you very much!!!! -Carlos & Sheila
Roger C. ★★★★★ Shout out to Bruce for finding and fixing the leak in our mini split system. Very professional and thorough!
Gina S. ★★★★★ Tony A was awesome! We had an issue with out tankless water heater and he found the problem and serviced it all in our appoint window. I will request Tony next time we have a plumbing problem or just need an inspection. We trust the services of Sanders Home Services for all our needs be it heating, ac, plumbing or electrical. They will never disappoint!
Valarie G. ★★★★★ Everyone is very professional and friendly from call center representative to technicians. Took pictures and explained everything in detail. Very neat workers.
LN T ★★★★★ Thanks to Sanders Home Services our AC unit is running again! This is one of the best companies in South Jersey - efficient, reliable, good quality and great customer service!
Robert R. ★★★★★ Exceptional service from the initial phone call through the completion of the work.James Grasso was timely,explained everything that needed to be repaired and took the time to go over everything that he had done at the completion of his work.I will use Sanders for any and all needs that arise in the future.
Jeff S. ★★★★★ These guys are the real deal. Our janky plumbing (done by a house flipper) under the sink gave way and leaked all over the kitchen. Sanders came out and carefully inspected the shoddy plumbing job. I had initially asked them to put a "band aid" on it so we can get our sink running. The gentleman who came out said he could fix it properly and at a very reasonable cost. He took care of it and now we have a properly plumbed kitchen sink, garbage disposal and dishwasher. He even gave me some tips I can do myself to help improve proper drainage. I would absolutely recommend these guys. They could have taken me for a ride and they found a way to save me money.
Lauren P. ★★★★★ Randy came over today, because my hot water heater stopped working. We knew it was ancient and were prepared for a lot of work to be completed. We received a quote from another company that was 3x what Randy quoted us at. Randy explained everything in detail and gave us options. He was able to do the work the same day (as we have not had hot water in five days). He was professional, respectful, and communicated clearly with us. He understood our concerns and explained everything. I could not be more thankful for him! Thank you SO MUCH for your help, Randy!
ginger105 G. ★★★★★ Mike, Ray and Chris were the most professional electricians we have ever encountered. They were super efficient, took great care to cover our carpets, were friendly to our golden retriever and, entertaining. Mike, who was the one who was upgrading our electric panel, is a part time DJ and when I told him I was going to my 50th HS reunion next month, he played music from the '60s while he worked. I had so much fun. The work they did was outstanding and they left everything cleaner than it was. I would highly recommend them,
John C. ★★★★★ Randy is a master plumber, who is kind, courteous, respectful, and professional most of all. He came in and inspected the problems, we had. There was a toilet and a drain clogged, and it required removal of the toilet. (I had tried Drano, on all three drains in the bathroom )The professional service made it well worth price, as, l believe, that it takes many years to get to that level of professionalism, and pay, should come with knowledge, as in any profession. I will gladly call them again, I hoping that, as we build a rapport over the years, it will be beneficial to both of us businesswise.
Michael W. ★★★★★ Been using Sanders whenever I run into plumbing or electrical problems. Had a drain prob, called Sanders, Randy come over and helped me out. Estimate and work done same day. Easy Peasy!
Tricia F. ★★★★★ We've used Sanders Home services over the course of 3 different homes and they've always been wonderful! However this time, even more so....we just moved into a 60 year old home and low and behold we need a new sewer pipe. Randy was amazing in diagnosing the problem and then brought a stellar crew of Rich, Joe, Seth, Nick and Adam the very next day to replace the pipe. They even saved my brand new landscaping !! Can't say enough wonderful things about Sanders, from the initial phone call to the finished product...professionals at their best!
Jeffrey H. ★★★★★ Sanders installed out HVAC unit 19 yrs ago and when ever we've had an issue we've called them for service. Punctual, cost effective, friendly and knowledgable service.
Susan M. ★★★★★ Tony was prompt, knowledgeble, informative and extremely easy to with. Our household highly recommends Tony.
Len E. ★★★★★ This was the first time we've ever used Sanders and they were first rateall the way. Tony the service man was especially nice and informative which we find very important. Thanks Sanders!!Today is the second service call done for us by Sanders and I am really in awe of the speed they get their technicians out and the quality of service they provide. We were lucky to get Tony again to do the work for us and he's just so nice and thorough. He goes the extra mile and so does Sanders. I wouldn't think of using any other company.Very highly recommend.
Ted P. ★★★★★ Nick arrived promptly to look at options for my water heater replacement He was very professional and answered all of my questions and concerns Received the quotes on line and will be makiing a decision soon. Thanks also to customer service who dispatched the quick visit
Jerry C. ★★★★★ Randy was outstanding, efficient and explained everything so we understood the issue , the fix and the cost.Randy was through and asked questions if he couldn't find something.
Robin K. ★★★★★ They are extremely professional in every way. Bill came out and was very thorough with his estimation on the work to be completed. The pricing was also very accommodating. I would recommend Sanders Home Service to anyone looking for good old fashioned home services.
Ken B. ★★★★★ We are average home owners who time and time again receive above average service from Sanders. From the initial install of our AC/Furnace system 8 years ago, to the warranty replacement work we had done recently, I have always felt the benefit of having a well managed team working to provide satisfaction plus. We had a couple issues over time with the system that was installed. That happens. However, from dispatch, tech crew and warranty/customer advocacy, I believe the Sanders organization puts the customer first. I believe their assessments and trust that they will do as they say. They earned this trust. I don't give it freely. Thank you Sanders team for our recent warranty replacement work. I know you will be there if needed in the future. Best, Ken Barcia
Tracy S. ★★★★★ Sanders is my family's go to company for heating, cooling, plumbing and electrical. Whether for maintenance or an emergency after hours, they are all dependable, punctual and knowledgeable. My latest service was for the cooling maintenance check. Thanks Fiore for the great service as always!
Francisco B. ★★★★★ Great service. Nick, the serviceman, was neat and professional. He did an excellent job fixing my plumbing problem. I would recommend this company for your plumbing needs.
MARY H. ★★★★★ Sanders Home Services has been great. We had a complete system installed in 2015. No problems. Best of all, the people are awesome. Ryan was out today - A+++++
Junior G. ★★★★★ We called Sanders about our smoke detector problem. And they came out a day later and Tim did a excellent job identifying the problem and was friendly and professional. Great experience and service. Highly recommend this company.
Main Sewer Line Replacement In Wenonah, NJ
Main Sewer Line Replacement In Wenonah, NJ
Sanders Home Services performed a main sewer line replacement in Wenonah, NJ, we were contacted by the customer to investigate some issues he was having with his main sewer line. Using our advanced video pipe inspection technology, our plumbing technician was able to find the problem. The existing orangeburg sewer pipe had delaminated, causing dips ...
Furnace & Air Conditioner Replacement In Voorhees, NJ
Furnace & Air Conditioner Replacement In Voorhees, NJ
Sanders Home Services did a Furnace & Air Conditioner Replacement In Voorhees, NJ, because the customers heater had stopped working. We sent one of our HVAC Service technicians to the home. The 25 year old furnace needed numerous repairs. Our technician provided estimates to the customer for the repairs, but recommended replacing the unit due ...
Electrical Service Replacement In Burlington, NJ
Electrical Service Replacement In Burlington, NJ
Sanders Home Services recently did a full electrical service replacement in Burlington, NJ, for a client who had contacted us because of lights blinking inside her home. Our electrician discovered a corroded breaker to be the cause of the blinking lights. He also noticed that the electrical panel was extremely corroded at the main breaker, ...
Investing In An Automatic Setback Thermostat
Investing In An Automatic Setback Thermostat
An automatic setback thermostat is a highly effective tool for managing your home's temperature and reducing energy consumption. These devices allow you to set different temperature levels for different times of the day and days of the week. This means you can program your thermostat to lower the temperature during times when you are not ...
DIY Tips – Where To Install Carbon Monoxide Detectors
DIY Tips – Where To Install Carbon Monoxide Detectors
Carbon monoxide (CO) is a silent killer that can quickly become deadly. It's an odorless, colorless, and tasteless gas that can be produced by a variety of sources, including gas-powered appliances, wood-burning stoves, and cars. When inhaled, it can cause dizziness, headaches, nausea, and even death. As awareness of the dangers of CO has grown, ...