Heating Repair Services
Getting proper repair services done to your furnace during those long, cold months of winter is very important. In the winter your furnace is critical to your family's well-being. If you experience any reduction in performance or a shutdown, call Sanders Home Services for our quick, top-quality heating repair services. We put our education, experience and dedication to work for you, providing quick resolutions to the most complicated problems.
As a complex machine, your furnace requires precision adjustments to keep it running properly and safely. Small problems should never be ignored, as they can result in leaking gas, dangerous carbon monoxide levels, poor efficiency and unstable humidity. Swift attention from trained professionals is crucial to reliable heating.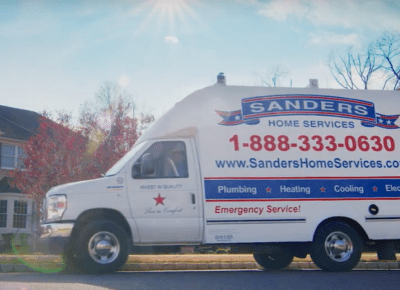 Newer heating equipment may still fall under manufacturer's warranty. In order to guarantee continued coverage, it is essential to have all repair-work performed by a certified technician. Resist the temptation to fiddle with it yourself. Even if your aren't risking the warranty, you are jeopardizing efficiency, safety and longevity. With something as important and expensive as your heating system, it's worth a phone call and a professional checkup.
Reach out to us anytime at 856-429-3086 for your heating systems repair and maintenance services…we're happy to keep your system running smoothly!
Heating Repair On Your Schedule
At Sanders Home Services, we don't lock our doors on the weekends. We're open seven days a week to better serve your busy lifestyle. We offer convenient appointments, arrive on time and respect your property by keeping the work area clean and tidy. If you should find yourself in a crisis, call us anytime. Our team is available to deliver round-the-clock, professional emergency repair services.
Don't wait for full-system failure to enlist the help of the Sanders Home Services heating specialists. Any decrease in comfort, higher operational cost, unpleasant fumes or elevated noise level is reason enough to seek expert attention. Small problems can quickly graduate into major repairs if neglected. At times, the solution may be as simple as a thorough cleaning.
Rest assured, when you call Sanders Home Services for heating repair, we'll perform a complete inspection of all components to maximize efficiency, troubleshoot and reduce potential repairs.
Trust the Sanders Home Services team of support to solve your heating problems with prompt, competent and lasting repair. We cover the heating needs of all customers, and we service all makes and models…from those that would qualify as family heirlooms to the latest cutting-edge technology.
We'll keep you informed and only proceed when you're satisfied that we've reached the most cost-effective solution. If replacement is more economical than repair, our licensed technicians specialize in heating systems installation, and they have the training, product-knowledge and dedication to make sure the process is rewarding for you.
Be sure to ask about our financing options and seasonal maintenance to protect your heating equipment for years to come!
Air Conditioning Repair Services
When your air conditioning equipment isn't living up to your expectations, call Sanders Home Services, any time, seven days a week. We're always here to resolve your problem. From minor issues to complete system failure, Sanders Home Services handles cooling repair swiftly, efficiently and with solutions that last.
Our certified HVAC specialists are familiar with and trained to service all makes and models, from old to new, and we stay up to date on the latest, cutting-edge technology. Whether your equipment is a trusted antique or still covered under warranty, we'll maximize its efficiency, performance and longevity.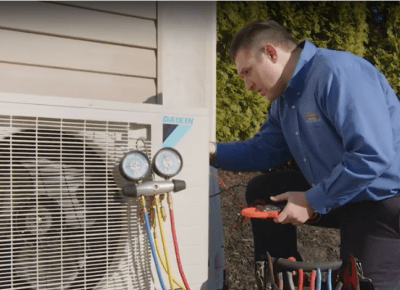 Any interruption in comfort can be aggravating, inconvenient and sometimes a safety hazard. If you find yourself in an emergency situation, trust Sanders Home Services to deliver the fast, professional help you need, no matter the time of day or night.
Our cooling experts arrive at your property prepared with the tools, experience and dedication it takes to get the job done right the first time. We respect your time and property, and do our utmost to get your family back to the home comfort level you deserve.
A/C Repair Experts!
The team from Sanders Home Services strives to eliminate surprises. By keeping you informed and offering the most cost-effective options, we protect your best interests and your financial concerns. Some equipment may prove too costly to repair, and in those instances, we'll discuss and make recommendations for the most economical course of action.
Sanders Home Services specializes in air conditioning installation, offering a diverse range of efficiency, pricing and sizing to meet every need. No matter what cooling problem you might experience, we have an affordable and rewarding answer to exceed your expectations.
When you call Sanders Home Services for service, our licensed and insured cooling specialists not only analyze and resolve the initial problem, we can perform a complete and thorough maintenance of all components. By inspecting and cleaning such things as the compressor, evaporator coil, motors, belts, condensate drain and duct system, we can greatly reduce future difficulties.
Sometimes, if your cooling equipment hasn't received annual service, reduced airflow and an inability to absorb heat and unnecessarily high utility bills can be the result. Through tightening, cleaning and careful examination, we can greatly improve efficiency, performance, humidity control and lifespan.
Call Sanders Home Services at (856) 429-3086 and rest assured you're getting the expert service. We perform all of our own work, never leaving you in the hands of sub-contractors, and take pride in a tradition of serving the needs of our customers, with ethical, affordable and expert workmanship.
For the most reliable and trustworthy solutions to your home temperature control, count on Sanders Home Services to keep you refreshingly comfortable season after season.
Proudly Serving: Camden County, Burlington County and Gloucester County.