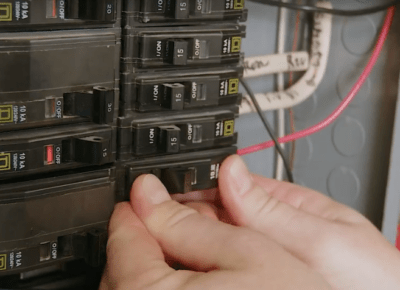 Faulty outlets & switches can cause many different problems for a household. Circuit breakers can be in need of replacement for many reasons. If you have recently had an inspection and found that you have faulty circuit breakers installed in your home, call Sanders Home Services now to find out the best way to fix your home or office.
We provide first class electrical services for property owners in Camden County, Burlington County and Gloucester County.
Often, when encountering over current or short circuit, some units will fail to trip in response. This failure can result in a fire, property damage, or personal injury, contributing to the more than 60,000 deaths annually due to faulty electrical systems in America.
We only use top of the line breakers and panels. We will replace your faulty electric panel with dependable units to ensure lifetime quality performance. Sanders offers limited lifetime warranties on breaker panels. Get the work done once and never worry again.
Sanders uses only the most trusted and comprehensive circuit breakers, as well as reliable fittings, conduit bodies, explosion proof boxes, controls, plugs, receptacles, switches, enclosed breakers, safety switches, and fuses. You can rest assured with the peace of mind knowing that your electrical systems will power your home safely.