Ceiling Fans
Indoor, outdoor, decorative, and high-performance ceiling fans and attic fans enhance the beauty and appeal of your home or office. They can also help ventilate your home or office, increasing your comfort and saving you a lot of money on air conditioning bills in the summer, and move air from a heat source, such as a fireplace, to keep you warmer in the winter. The difference in temperature with the right fan installed in the right location can be as much as 6-8 degrees Fahrenheit.
We can also help you repair or install ventilation fans in your bathroom or kitchen to keep the air fresh and clean and help keep your home mold-free. We can also help you select your fan and ensure you get the most out of your current fan and ventilation system warranties.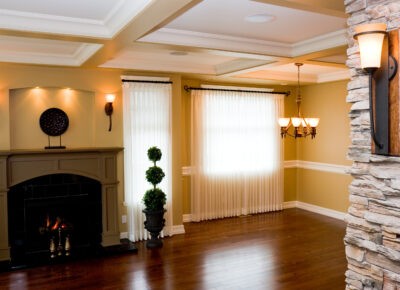 Fixtures
When it comes to lighting fixtures, there are a few different reasons you might need to have them installed or replaced. Perhaps you want to update the lighting, or maybe your existing fixtures are old and need to be replaced for safety reasons. Whatever the case may be, Sanders Home Services can help.
New lighting fixtures can make a big difference in the overall aesthetic. For example, you might choose to install a new chandelier or pendant light in a dining room to create a more elegant and sophisticated atmosphere. Or you might opt for recessed lighting in a living room to give the space a modern, streamlined look.